It is heartening that we, Sujoy [Ghosh, director] and I, could tell this story. Child sexual abuse is a reality. I'm glad we could handle the subject sensibly and sensitively. It's a good thing that we enveloped the theme in the guise of a thriller, to give it pace and buoyancy or it could have ended up preachy.
Abuse is often so traumatic, that it paralyses people. No one wants to talk about it, and I am not just referring to those who face it. Statistics prove it is an experience that every second person undergoes; sexual abuse is dark and leaves you hopeless. Whenever we talk of abuse, we aren't referring to stray incidents of groping in public places. In most cases, abuse is continual.
But Sujoy's story offered a ray of hope at the end of the tunnel. We knew that the film needed a positive resolution. I read up a fair bit on sexual abuse before we started shooting. I met Pooja Taparia, who heads the NGO Arpan. She offered me material and insight into the lives of sexual abuse survivors. It was traumatic to learn that families of survivors though aware of the incidents, keep mum. When you are molested in a mall, you have the option of turning around and kicking the person where it hurts.
I can't imagine the helplessness of not being able to retaliate. Family members who exploit the vulnerable get away with it because there is some form of co-dependence, either emotional or financial, which doesn't allow them to address the abuse.
I remember the story of a friend who was once visiting a cousin for the weekend. She was in her early teens. At night, when her cousin fell asleep, her husband lay down next to my friend. He tried to fondle her but somehow she escaped. When she told her mother, she said, 'Kuch hua toh nahin'. It's probably because for Indian society, the idea of abuse is unclear. We aren't sure what qualifies as offensive and not. It's subjective; it depends on what is perceived as abuse by an individual. The onus is on parents to understand and address what makes their child uncomfortable.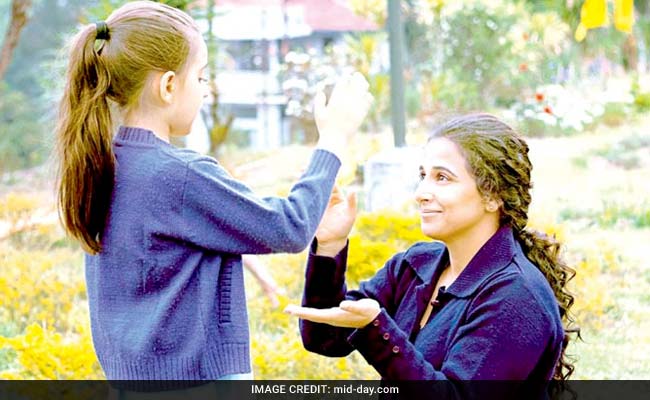 My character had to look unattractive. Vidya wore drab colours. It's because she doesn't want to attract attention. She doesn't wash her hair, her skin is dry, nails chipped, skin around them peeling.
Sujoy wrote Vidya's character as intricately detailed. She abhors physical contact of any sort. There is a scene in which she is standing in a train and when a woman slumps on her due to a jerk, she cringes. When her suitor touches her, she panics because it takes her back to a disturbing part of her life. The film says that abuse has a long-standing psychological impact. Survivors begin believing they invited it. As women, we are always taking the onus for most wrongs that happens to us. But child sex abuse happens to boys too.
As told to Mohar Basu
Source: NDTV